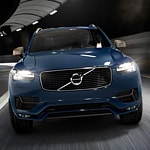 The 2022 Volvo XC90 is a luxury vehicle that drives well and comes with all sorts of comfort and convenience features. However, the vehicle really shines when you take a look at its safety features, of which there are many.
The 2022 Volvo XC90 comes with an accident avoidance system that notifies you when a potential obstruction is detected in your blind spot. You're also notified when you accidentally drift out of your lane with the vehicle's lane departure warning system.
The 2022 Volvo XC90 comes with both pre-collision and post-collision safety systems. These work to keep you secure when a collision occurs. The vehicle also comes with a wide range of features that make driving in different environments easier. These include both traction control and stability control. The vehicle also aids visibility with a range of headlamp options.